Verhalen in alle talen op Theater aan Zee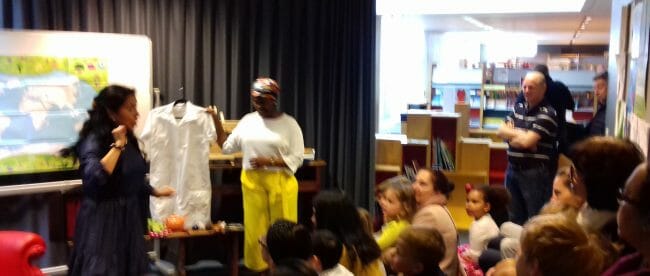 FMDO werkt dit jaar mee aan Theater aan Zee. Elke dag van 28 juli tot en met 3 augustus om 14u00 lezen we verhalen voor in verschillende talen. Daarvoor
gingen we op zoek naar mensen die graag verhalen willen voorlezen aan kinderen in hun moedertaal. Samen met Nederlandstalige voorleesvrijwilligers bereidden ze een meertalig vertelmoment voor! Of het verhaal nu in het Spaans, Arabisch, Chinees, Frans of Russisch wordt verteld; alle kinderen kunnen volgen dankzij de interactieve manier van vertellen.
Voor kinderen en hun ouders. Inschrijven is niet nodig, maar kom op tijd!
Na 14u kan je niet meer binnen in de tent!
Bekijk het filmpje voor meer info: