Throwback naar KRAC-Wereldmarkt op Sinksen Kortrijk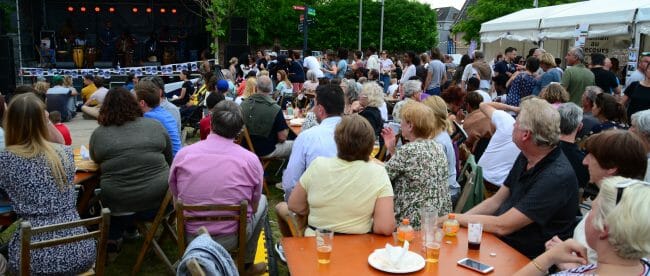 Exact een maand geleden ging de 2e editie door van KRAC-Wereldmarkt op Sinksen te Kortrijk. Dit tweedaagse festival kadert binnen de werkgroep KortRijk Aan Culturen en werd georganiseerd door FMDO en Stad Kortrijk.
Net als vorig jaar was de Houtmarkt de place-to-be voor twee dagen vol muziek uit verschillende landen, 16 diverse eetstandjes, dans, kalligrafie, haarvlechten, cultuurbeleving en ook dit jaar terug met een stralende zon!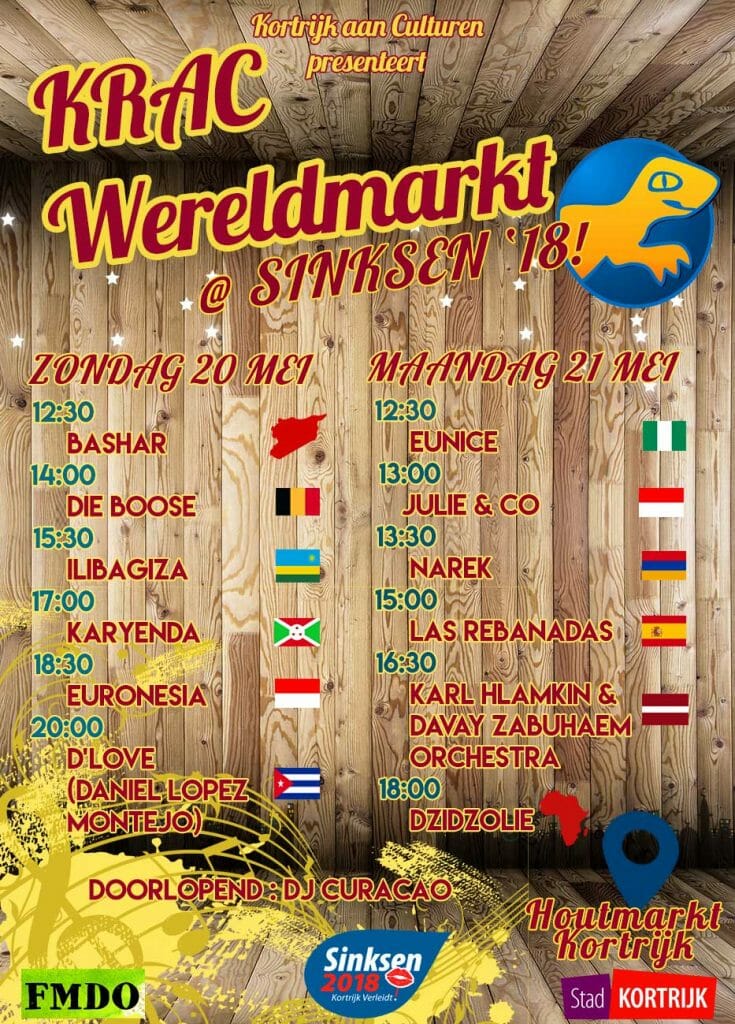 Nieuw dit jaar was een houten dansvloer voor het podium. Zoals verwacht, werd deze dansvloer constant bezet door liefhebbers van salsa, Afrikaanse bachata of andere wereldse ritmes. Het was een ideaal plekje om te genieten van dansspektakels uit Armenië (via lidvereniging NAREK), Indonesië of Nigeria. De blikvangers op de eerste dag waren de spektakelrijke, luide Burundese drums van lidvereniging Karyenda. De eerste dag werd feestelijk afgesloten met D'Love, een Cubaanse groep waar het publiek niet kon op stilzitten.
Ook op maandag was het tijd voor spektakel. Na mooie, traditionele dansen was het tijd aan Karl Hlamkin en zijn gekke bende. Dansbare balkan-ska deden het plein opleven. Dzidzolie, een groep van verschillende West-Afrikaanse topmuzikanten zorgden dat de dansvloer continu vol stond met jonge en oude(re) bezoekers!
Dit jaar zorgden we ook voor nog meer diversiteit binnen de eetstandjes. De bezoekers vonden de weg gemakkelijk naar ons plein, via de geur van maar liefst 16 verschillende standjes. De hongerige magen genoten van diverse lekkernijen in een zwoele sfeer.
Tussendoor mocht Xavier, educatief medewerker in Kortrijk, bij Radio Quindo precies gaan uitleggen wat KRAC-Wereldmarkt zo speciaal maakt. Het fragmentje kan je hieronder beluisteren :