Talenten bij Color Cultuur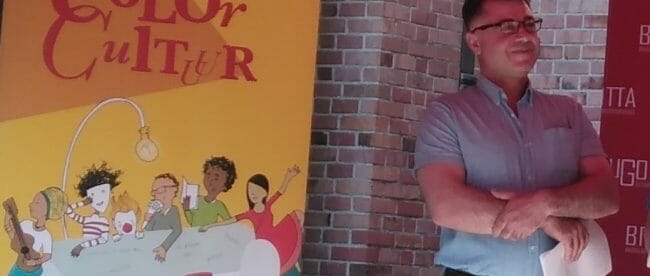 Karem Asmael is één van de talenten van Color Cultuur. Hij is een Syrisch dichter die op het podium van Bar Literaire zijn eigen gedicht heeft voorgedragen. Hij maakte indruk op ons met zijn gedicht over oorlog en liefde.
We danken ook Hubert Sanders voor de mooie inleiding en Luc Termont die de gedicht in het Nederlands voor ons bracht.
Hieronder kan je het gedicht in het Nederlands lezen.
Liefde in tijd van oorlog en vervreemding
Is liefde en oorlog als water en vuur?
Of hebben wij hier nog geen verwantschap tussen gevonden?
We blijven steeds zoeken naar de tegenspraak om uiteindelijk het onderscheid te vinden.
Misschien kwam je zonder zoeken in de liefde terecht en misschien was dit net zo wat oorlog betreft.
Beide, zonder enige voorbereiding.
In beide gevallen kan je niet weg en zit je vast in de toestand.
Zo is dit reeds van voor de eerste mens.
Liefde en oorlog hebben gelijkaardige pijnen en leed.
Ze hebben hetzelfde concept van vrijheid en dictatuur.
Men kan ze niet weigeren.
En beide hebben een synoniem in "branden".
Maar als liefde en oorlog samen komen, schrijven ze geen geschiedenis, want dat doen ze elk apart.
Geen taal kan uitdrukken wat ze samen hebben teweeg gebracht.
In het hart van de minnaar, voor zijn geliefde en het geliefde land.
Wanneer de dichters stoppen met het schrijven van poëzie
en wanneer de minnaar stopt de geliefde lief te hebben, dan blijft alleen de oorlog.
In de Arabische taal is het verschil tussen de woorden 'oorlog' en 'liefde' slechts één letter.
De poëzie van de man zijn als een wolkbreuk op het hart van zijn geliefde,
Ze vluchten, omwille van de dorst naar liefde, in een droomwereld, ver van het verhaal van oorlog.
De tederheid is gevlucht, samen met de dromen, en rijdt op de poëzie.
Het is een aankondiging van de overgave aan de wreedheid van het leven, de oorlog en zijn makers.
In wat volgt drukt hij zijn gemis uit aan haar, want hij is ver van haar.
Hij herinnert zich de plaatsen van zijn land en de onrust en schrijft:
*******
"Mijn geliefde,
Ik wens dat ik de straat vond naar vergetelheid.
Ik wil er mijn geheugen verliezen.
Ik leef graag zonder het voelen,
maar ik kan en mag het niet.
Elke dag komt met de macht van mijn land.
De zon is verlegen en schijnt zwak
en komt mij herinneren aan de morgenden met jouw gezicht.
Ik wens lang te slapen tot na zonsopgang.
Mijn dromen staan aan de deur van jouw huis
En lopen langs onze wegen tussen onze velden.
Ik wens lang te slapen
Maar de oorlogstrommel houdt mij en al mijn pijnen wakker.
Ook het kind in mijn hart en alle herinneringen zijn wakker.
De liefde, na acht jaar oorlog, ontwaakt telkens terug.
De klank van geweerschoten rond mijn hart
zijn als vallende sterren rond de maan.
De gele maan, met dezelfde kleur als de tarwe in mijn land,
lijkt even groot als mijn land op de landkaart.
Mijn hart is omkranst met de bloesems van de ceder en de eik
En gevuld met de bloemengeur van de zomeralsem.
In mijn hart staat jouw troon; de troon voor de koningin van de Jasmijnsteden.
Jij bent er de prinses tussen de bosjes van olijven en vijgen.
Ik wens dat deze droom blijft.
Ik droom dat ik, over alle grenzen en zeeën, op de witte wollige wolken,
naar de oever van jouw hart kom.
Ik maak, met de reuk van de woestijn,
de parfum voor ons huwelijksfeest.
Zolang ik alle paardenrassen ken,
kom ik op het mooiste volbloed paard naar jou toe.
Oh mijn liefste,
In deze tijden van geweld zijn onze harten
als een oven geworden voor alles rondom ons.
Jouw wimpers zijn als vuurwapens en kogels.
Heeft de geschiedenis jouw gezicht verandert?
Is jouw gezicht de plaats van gevecht tussen stammen geworden?
Of kregen de bloemen van liefde in mijn hart een douche van bloed?
Jouw liefde is voor mij als de ene bloem in de verwoeste steden.
De roos is wees geworden in de tuinen die verdwenen zijn.
Ook de bijen zijn verdwenen, zonder liefde.
Ik zie mijn bloem tussen barricades en zandzakken,
maar ik kan jouw parfum niet onderscheiden van de reik van de gestorvenen.
Ik hoop dat mijn berichten probleemloos, zonder paspoort,
met een landbries, naar jou gaan.
En dat mijn woorden jou kittelen
en bij jou binnenvallen op sensuele plaatsen.
Dat zij spelen met jouw lippen en borsten,
als een wolf in jaren van droogte.
Tenslotte wil ik niet in deze halte blijven.
Maar ik word het instappen belet en blijf ik maar hier.
Ik droom nog steeds van het verblijf op jouw lippen
en het wonen tussen jouw borsten.
Ik sterf elke dag
En na elk sterven, sta ik terug op omwille van jouw ogen.
Mijn bloemetje,
je bent mijn oorlog,
je bent mijn land."
Karem Asmael 06/05/2018.