Europees project 'Becoming a part of Europe' 2018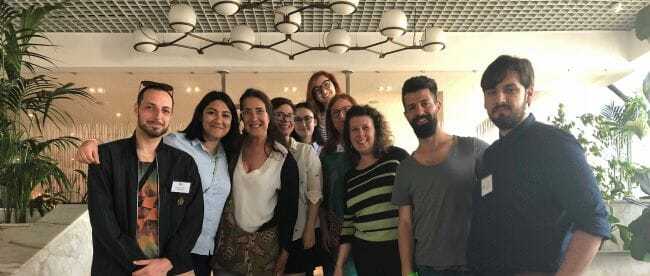 In 2018 is FMDO betrokken bij het Europees project 'Becoming a part of Europe'. In het kader van dit initiatief trok medewerker Mohamad Alsharane naar Malta  (24/04 t.e.m 26/04) om deel te nemen aan een internationale thematische werkgroep. Gedurende drie dagen werd er gediscussieerd, gebrainstormd en gedeeld rond het thema: De rol van jeugdwerk en het bekrachtigen van de competenties van jongeren met een migratieachtergrond, vluchtelingen en asielzoekers. Mohamad vertelt..
"Tijdens de thematische clustergroep in Malta spraken we over de rol van jeugdwerkers en de empowerment van jonge migranten, vluchtelingen en asielzoekers. Ten eerste probeerden we de noden van zowel de doelgroepen als de jeugdwerkers te identificeren. Het tweede doel was om aanbevelingen te formuleren rond deze kwestie voor zowel de lokale als Europese politici.

De eerste vorming werd gegeven door Professor Maria Lizani van de Universiteit van Malta. Samen dachten we na over de betekenis van jeugdwerk. Wat houdt dit juist in? Wat kan jeugdwerk kwetsbare doelgroepen zoals jonge migranten en vluchtelingen bieden? Volgens professor Lizani kan niemand één specifiek label of kenmerk aan jeugdwerk toewijzen.

Tijdens de tweede dag werden we verdeeld in twee groepen, een soort mix tussen Noord- en Zuid-Europa. Op deze manier merkten we op dat er veel verschillen zijn tussen de Europese landen wat betreft het integratiebeleid. Zo zijn de procedures voor het erkennen van vluchtelingen, het behandelen van asielaanvragen, het taalbeleid enzovoort vaak anders. Deze observatie was heel interessant!
Op donderdag, onze laatste dag, werd er veel gesproken over 'Advocacy'. Er is geen Nederlandstalige vertaling voor deze term. Het woord 'belangenbehartiging' komt het meest in de buurt. De groep werd weer verdeeld in twee groepen. Onderling werd er gediscussieerd over de manieren waarop het jeugdwerk kan inspelen op de noden van deze kwetsbare doelgroepen. Uiteindelijk werden we in de werkgroep eens over de volgende aanbevelingen:
Er zijn bepaalde basisbehoeften die alle nieuwkomers en vluchtelingen delen. Het jeugdwerk moet hier rekening mee houden. De jeugdwerker moet eerst kijken wat de prioriteiten zijn voor een individu. Daarna komen de andere spelers binnen het jeugdwerk aan bod om een goed netwerk te vormen rond de jonge nieuwkomer. Tot slot moet er nagedacht waar de jongere in kwestie zijn talenten het beste kunnen ontwikkelen.
Er moet nagedacht worden over hoe je een nieuwkomer kan laten participeren bijvoorbeeld aan democratie, sociale rechten, 'human rights' en actief burgerschap.
De jeugdwerker moet proberen om een brug te bouwen tussen de straat (de conditie waar de jongeren in leven) en alle diensten die aanwezig zijn in de stad.
De werkgroep eindigde deze driedaagse met een brainstorm over de volgende stappen die ondernomen moeten worden binnen deze thematiek. We verdeelden een aantal taken en deadlines werden genoteerd. Binnenkort komt er nog een definitief rapport met de bevindingen van de werkgroep."
Voor meer informatie over dit Europees project kan u terecht op de volgende link: http://www.bpe-project.eu/home/