Color Cultuur Openingsact bij TAZ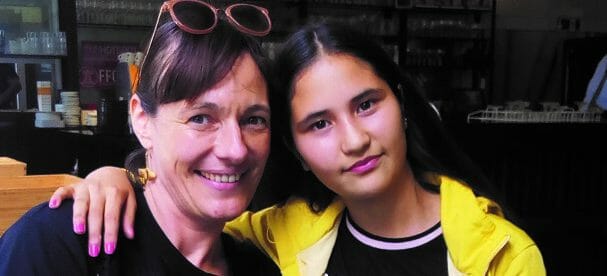 NAZILLA RAHMATI
Openingsact van Theater Aan Zee

Naast de gekende ingrediënten van Theater Aan Zee (TAZ), wordt het programma dit jaar aangevuld met enkele bijzondere concepten van gastcurator Barbara Raes. Zo zal de 12-jarige Oostendse met Afghaanse roots Nazilla
Rahmati op woensdag 25 juli om 21.30 uur het festival openen met een toespraak over het leven. UiT in Oostende ging met Barbara en Nazilla in gesprek.
Nazilla, ga je hier in Oostende naar school?
Ja, nu zit ik nog in het eerste middelbaar in het Ensorinstituut in Oostende, maar volgend schooljaar verander ik van school, dan ga ik naar het Atheneum omdat ik graag Moderne Wetenschappen zou willen volgen. De aanpassing wordt moeilijk, omdat ik mijn vrienden zal missen. Toch zie ik het niet meer zitten om verder te doen met Ondernemen & IT, dat blijkt echt mijn ding niet te zijn. Vakken zoals aardrijkskunde en natuurwetenschappen liggen me meer.
Wat doe je vooral in je vrije tijd? Heb je hobby's?
Ik speel volleybal en ga regelmatig zwemmen.
Je woont in Oostende, ben je hier ook geboren?
Ik heb Afghaanse roots, mijn beide ouders komen uit Afghanistan en ikzelf ben daar ook geboren. Omwille van de oorlog, zijn we moeten vluchten. Ik was toen twee jaar oud. Mijn ouders kozen ervoor om naar België te vluchten, omdat een vriend van mijn papa toen in Brussel woonde en zei dat het hier in België heel goed was. Ze wilden mij
en mijn broers een betere toekomst geven en dat is hen ook gelukt.
Aangezien ik in Oostende ben opgegroeid, heb ik mij dus nooit moeten aanpassen. De Afghaanse taal heb ik niet geleerd, maar nu probeer ik hier en daar wel Afghaanse woorden op te pikken bij mijn ouders. Toen we naar België vluchtten, was ik nog zo jong, waardoor ik geen herinneringen aan mijn tijd in Afghanistan heb.
Vanwaar de interesse om de toespraak te doen?
Toen Leidy Soto (projectmedewerkster Color Cultuur bij FMDO, Federatie Voor Marokkaanse en Mondiale Democratische Organisaties, n.v.d.r.) me contacteerde, zag ik het meteen zitten. Ik zou graag iets doen met theater en deze toespraak is een hele leuke start, ook al weet ik uiteraard niet waar ik zal eindigen. Mijn naam staat al in het boekje, dus dat kan het begin van iets moois betekenen. (lacht)
Wat zijn je ambities in de theaterwereld?
Mijn ambitie is om mensen te inspireren. Zo wil ik via theater tonen dat je nooit in jezelf moet keren, maar naar buiten moet komen met jezelf. Later zou ik misschien 'Woord' proberen te volgen aan het Conservatorium in Oostende.
Barbara, hoe is jullie samenwerking tot stand gekomen?
De openingstoespraak van Theater aan Zee wilde ik niet zélf doen en het thema dit jaar is 'nieuwe rituelen'. In het leven zijn er verschillende momenten die je markeert zoals bijvoorbeeld het huwelijk en de dood, maar de overgang van 11 naar 12 jaar, van lager naar secundair onderwijs, zit er niet in. Ik had ook geen productie daarrond en dacht: wat als ik de openingsspeech door iemand van die leeftijd laat opvoeren?
Het thema van TAZ heeft dit jaar ook vaak te maken met afscheid en voor mij heeft afscheid dan weer te maken met een ode aan het leven, met niet opgeven, met elke dag de zon 'opzingen', met licht, het feest van het licht.
De gedachte dat een twaalfjarig meisje iets zou brengen tijdens de opening vond ik heel mooi.
Hoe heb je Nazilla gevonden?
Barbara: Dat was dankzij Leidy van FMDO. Voor verschillende projecten voor TAZ werken we samen met hen.
Het centrale thema is nieuwe rituelen, waardoor we elke dag een andere cultuur uitnodigen om te spreken in het familiepark. Zo leerde ik Leidy kennen. Toen ik op zoek was naar een twaalfjarig meisje uit Oostende, dacht ik, hoe vind ik haar nu? Hoe vind ik het perfecte meisje en wie kent er veel mensen in Oostende? Leidy heeft mij Nazilla aangeraden. Vanaf de eerste ontmoeting dacht ik: oké, dat is perfect, het plaatje klopt.
Nazilla, krijg je oortjes tijdens de toespraak of leer je de tekst helemaal vanbuiten?
Ik wil hem vanbuiten leren, zodat ik me volledig kan inleven in de voorstelling in de plaats van gewoon te herhalen wat iemand anders in mijn oor fluistert.
Indrukwekkend! Ben je nerveus om dat te doen?
Totaal niet, eigenlijk. Misschien word ik op het moment zelf wel zenuwachtig, wanneer ik het effectief zal moeten doen, maar nu nog niet. Nu ben ik enkel opgewonden. Ik ben het ook al gewoon om voor een groot publiek te spreken. Voor mijn schoolfeest en lentefeest heb ik dat al moeten doen, waardoor ik wel al wat ervaring heb om voor een grote groep mensen te staan.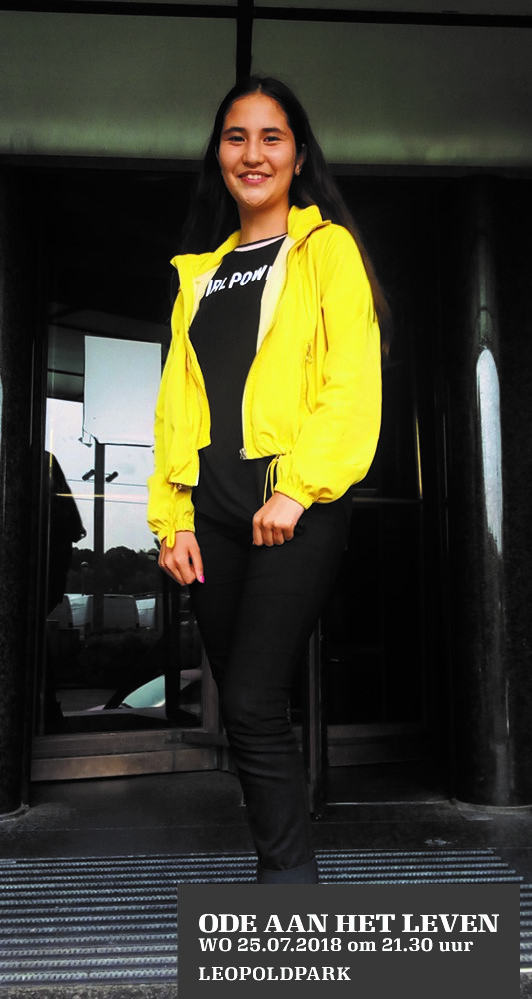 Wat mag het publiek van de toespraak verwachten?
Nazilla: De tekst krijg ik eind juni pas, maar ik denk wel dat het publiek wel iets speciaals mag verwachten.
Barbara: That's the spirit! De tekst is nog in de maak en wordt geschreven door Freek Mariën, regisseur en tevens een goeie tekstschrijver die onder andere kindervoorstellingen maakt, dus ook ik ben heel benieuwd. Ik heb een heel lang gesprek met hem gehad over mijn ideeën en hij zal ze in een poëtische tekst omzetten.
Weet je al hoe je je zal voorbereiden op je toespraak, Nazilla?
Ik denk dat ik mijn toespraak vooraf eens zal houden voor mijn klasgenoten, zo kan ik al eens met publiek oefenen.
En heb je al een idee hoe je je voor de gelegenheid gaat kleden?
Omdat de toespraak gaat over de zon die opkomt, dacht ik aan iets geels. Geel als symbool voor de rijzende zon en als symbool voor schittering.
Wat betekent het voor jou dat je dit mag doen?
Heel veel! Ik zie het echt wel als het begin van mijn carrière in de theaterwereld!
Om af te sluiten, wat is je doel voor de toekomst?
Ik zou eigenlijk graag met zowel theater als tv bezig zijn en ook een eigen boek schrijven. Een boek over hoe mijn carrière begonnen is en hoe het verdere verloop eruitziet. Met mijn boek wil ik gewoon laten zien dat iedereen klein kan beginnen en het toch ver kan schoppen. "Willen is kunnen" is mijn levensmotto. Je mag niet bang zijn om te tonen wat je wil en dan moet je er gewoon voor gaan!
Bron: Artikel van Uit in Oostende.
juli 2018
Kelly-Joyce Vermeesch